Just in the nick of time...(Ok, I'm lying; I sent this baby out a day late.)...I completed two borders of wonky trapezoid towers.
I was trying to figure what shape remained to be added since there were already x's, triangles, rectangles, half-circles, and curvy, striped leggings. Ok, just kidding about the leggings. But what shape would you call the shapes in the center?
Nobody had added trapezoids, so trapezoids, it was! I used a selection of yellow, black & white, olive, orchid, orange, and blue prints with a white and white on white background.
Let me tell you about the process, in case you want your very own wonky trapezoids. Cut a 2 1/2" x 4 1/2" rectangle of whatever fabric you want for the trapezoid. Use scraps for the background.
Lay a background piece on the trapezoid rectangle as shown, with right sides together. Stitch a 1/4" seam.
Even use one long strip for the background, if you want to be really bold.
Press the background toward the corner. Flip the rectangle so the wrong side is facing upward and cut away everything that extends beyond the rectangle.
Flip the piece over so the right side is facing upwards. Flip back the background triangle and cut the seam allowance even with the background.
Add a stitch and flip triangle to the other side in the same fashion. Trim it up too.
Make more, and attach them in one big ol' tower.
Who's up for some wonky trapezoids?
I'm linking up with: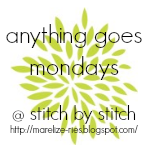 Also, if you are one of the dear people who follow my blog, don't miss your chance to win
my giveaway
.